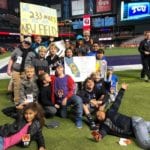 On March 15, 2019, the city of Bullhead City held a ribbon cutting for the new football field at Rotary Park for the benefit of the Tri-State region, the Foundation's service area. The field, which was originally used at the 30th Annual Cheez-It Bowl in Phoenix, was donated by Fiesta Bowl Charities and BHHS Legacy Foundation.
After months of preparation, the field is now lush, green, and ready for play. The donation to the city, valued at about $250,000, was made possible through the cooperative efforts of Fiesta Bowl Charities, BHHS Legacy Foundation, the City of Bullhead City Parks and Recreation, Boys & Girls Clubs of the Colorado River, and other community partners. Along with the 80,000 square feet of grass were a custom Fiesta Bowl electronic scoreboard as well as repairs to Firebird Field's bleachers and goalposts and other improvements. Thousands of youth from the surrounding Tri-State communities will utilize the field to participate in various ball leagues and intramural athletic sports. We look forward to the Tri-State community benefiting from this project for years to come.
Watch the video below to see highlights of the dedication as well as children enjoying the beautiful new field.