Each year, Legacy Connection's Backpack Buddies program makes a difference in the lives of more than 15,000 students from low-income families by providing clothes, back-to-school supplies, and health and hygiene staples. In the Tri-State region, the program has expanded and changed to serve a record number of children.
"This year, we visited each school and distributed items directly to the kids. In the past, we held one large event in July and relied on parents to transport them," said Teri Tomlinson, VP of program development at BHHS Legacy Foundation. The Tri-State team also introduced a Teen Shopping Night, when high school students receive gift cards to buy what they want at Ross Dress for Less, and a Cap & Gown closet, offering future graduates the chance to rent a graduation gown for a $25 refundable deposit.
The Tri-State team also launched an Immediate Need program, which provides uniform shirts, pants, shoes, socks, underwear, and jackets to students in dire need. "We have, sadly, many students that require help. We simply help them," Tomlinson said.
Coming soon is the new Connection Express bus—a streamlined approach to distributing Backpack Buddies items in the Tri-State region. "Our plan is to partner with each of the schools to set aside days throughout the school year to be able to serve children when a need arises," Tomlinson said. The 25-foot transit bus is set to hit the road in 2024.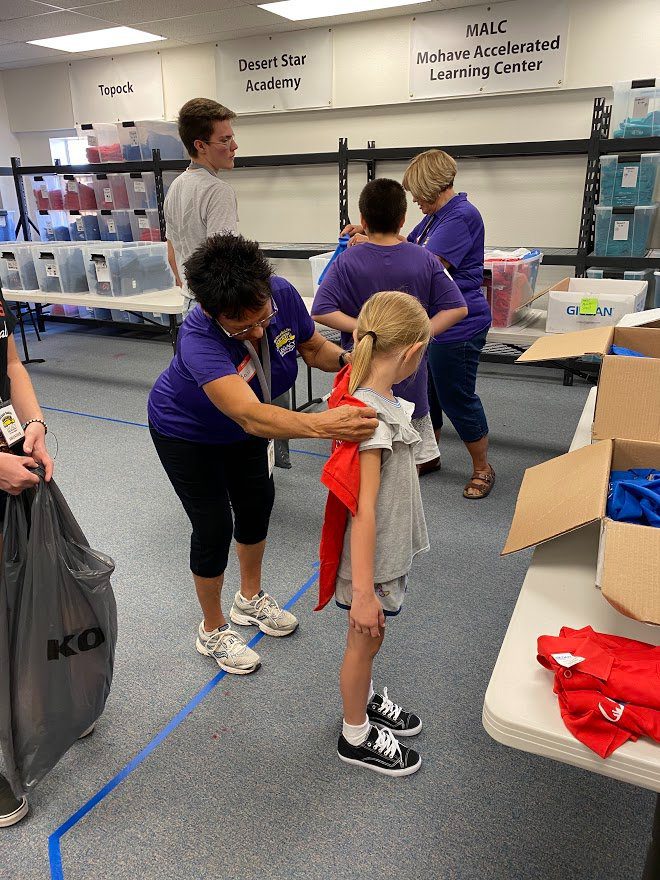 By the end of the year, the Tri-State team will have positively impacted 3,650 kids. "This has never been done before, and we are so proud of this work," Tomlinson said.
But the Legacy Backpack Buddies program doesn't stop at the Tri-State region. Its reach extends to the Valley, where—in collaboration with Back to School Clothing Drive Association, Assistance League of Phoenix, and Assistance League of East Valley Operation School Bell—it helps position thousands more students for future success.
Help give young learners throughout the state the tools, educational supplies, and clothing they need to feel confident and ready to learn. Donate now to Backpack Buddies and build a more successful future for us all.