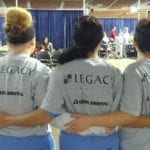 Between January and December, 120 organizations received more than $6.5 million in BHHS Legacy Foundation funding in 2018, in both the Phoenix and Tri-State regions of the Foundations' geographic service area. Grant awards ranged from $250 to over $1.3 million.
In 2018, the Foundation made a major investment in its Tri-State region with a grant of $1,380,500 to Catholic Charities Community Services to construct a homeless shelter which will be the first of its kind in the community. Each night, the shelter will have capacity to temporarily house approximately 48 individuals and three families experiencing homelessness while connecting them to available social services to create a path of self-sufficiency and hope for a bright future. The facility will also include a day center that will provide support services and resources for those who aren't staying overnight, but drop in for assistance. 
"Where others see challenge, we see opportunity," says Gerald L. Wissink, CEO of BHHS Legacy Foundation. "We are honored to partner with visionary leaders of nonprofits and programs, and grateful for the trust they have in our shared mission to increase and improve access to medical, mental, and dental health services and quality of life for children, families, and older adults." This round of the Foundation's community grant funding supported programs and projects that increase and improve access to healthcare ($1,139,985); improve community health through prevention and education ($639,576); expand Arizona's healthcare workforce ($474,148); and strengthen and support health-related community efforts ($4,248,055).
Click here to see a full list of the Foundation's grant giving.
Fiesta Bowl Charities and BHHS Legacy Foundation Bring Cheez-It Bowl Turf to Bullhead City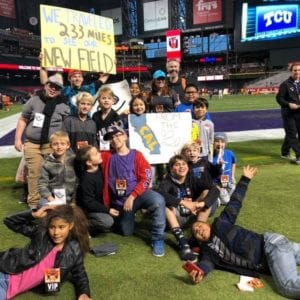 Fiesta Bowl Charities, in conjunction with BHHS Legacy Foundation, donated the field used for the Cheez-It Bowl game to Bullhead City's Firebird Field at Rotary Park. Kids from the Boys & Girls Clubs of the Colorado River made the trip to Phoenix on Dec. 26 for the big game.
The turf used for the game at Chase Field was trucked to Bullhead City the day after the game for installation at Firebird Field, which was in serious need of major refurbishing for safe play. The donated field will primarily be used for youth ball leagues and intramural athletic teams, but also for other community athletic/fitness events. It should be ready for play in March.
The donation, valued at about $250,000, includes 80,000 square feet of Bermuda grass field plus a custom Fiesta Bowl electronic scoreboard, goalposts, bleachers, and other field improvements. BHHS Legacy Foundation was thrilled to partner with Fiesta Bowl Charities, the City of Bullhead City, and the Boys & Girls Club of the Colorado River to make this donation possible.
Central Arizona Dental Society Foundation Receives Funds from BHHS Legacy Foundation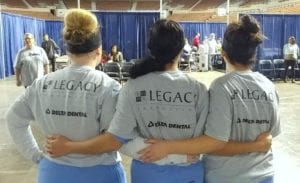 BHHS Legacy Foundation is proud to support the Central Arizona Dental Society Foundation in its quest to provide free dental care to thousands of children and adults in need.
Last month, Legacy provided funding for the foundation at the annual Arizona Mission of Mercy event, which provides $2 million in free dental care to more than 2,000 patients in two days.
On Jan. 24 and 25, the organization will be back in service at the Arizona State Fairgrounds for the Maricopa County StandDown, coordinated by the Arizona Housing Coalition's Arizona Veterans StandDown Alliance. This annual event, which provides critical support services to thousands of U.S. military veterans and their families experiencing or at risk of homelessness, has grown into one of the largest events of its kind in the country.
For information or to volunteer for the Maricopa County StandDown, click here.
Backpack Buddies in Action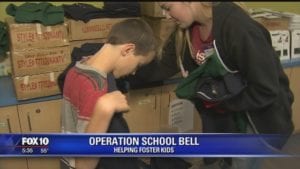 BHHS Legacy Foundation recently helped Arizona Helping Hands hold its first midyear clothing drive to get foster kids ready for the spring semester.
The Assistance League of Phoenix brought its Delivering Dreams bus to provide 300 foster kids in need with new clothes to start 2019 in style. BHHS Legacy Foundation is honored to help make this collaboration possible.
Throughout 2018 both Legacy Foundation and Legacy Connection in collaboration with Assistance League of Phoenix and Back-to-School Clothing Drive have also provided funding to serve more than 13,000 elementary students from Title I schools, equipping them with much needed back-to-school clothing, backpacks, shoes and school supplies.
Watch this video to see highlights from the day.