BHHS Legacy Foundation is proud to announce grant awards made to date in 2020. Between January and July, the Foundation awarded more than $3 million to support organizations working to improve community health.
During this period, the Foundation came forward to respond to the unprecedented challenges presented by COVID-19, strategically directing resources to support organizations providing care for our communities during the pandemic.
For example, BHHS Legacy Foundation joined other foundations by giving $125,000 in matching funds to Arizona Community Foundation's COVID-19 Community Response Fund. This collaborative fund is a community-based effort that supports Arizona nonprofits providing essential services as they respond to the coronavirus spread. More than $7 million in funds were awarded on a rolling basis over the last few months to nearly 700 nonprofits across Arizona.
BHHS Legacy Foundation also awarded $75,000 to assist the River Fund, Inc. in supporting individuals and nonprofits in the Tri-State Region adversely impacted by COVID-19. Founded in 2010, the River Fund is funded primarily by donations made through payroll deduction by employees of local companies, including casinos in Laughlin, Nev. In March, when the coronavirus forced businesses to close, those contributions stopped just as the need for community assistance began to rise. Legacy's grant funding is helping to bridge the gap between reduced funding and increased demand.
Additionally, the Foundation gave $30,000 to the Arizona Apparel Foundation in support of FABRIC. This Tempe-based fashion incubator has been sewing thousands of reusable medical gowns for Arizona's healthcare workers treating COVID-19 patients. FABRIC has made more than 100,000 medical gowns to date and has sent them to the Navajo Nation and local hospital systems.
Arizona Food Bank Network—a membership organization made up of several large Arizona food banks and hundreds of local food pantries and agencies throughout the state—received $25,000 from Legacy to provide emergency support to small local food banks facing increased demand from the pandemic.
BHHS Legacy Foundation awarded $75,000 to Brighter Way Institute to support its emergency operations. As a nonprofit that provides pediatric and adult dental care to individuals regardless of their ability to pay, Brighter Way Institute was severely impacted by COVID-19. Legacy funding has helped mitigate the double impact of fewer patients and added costs of Personal Protection Equipment for staff.
The Joy Bus received $40,000 to support its More Than a Meal Delivery Program, which delivers fresh, medically tailored meals to homebound cancer patients. The program has become critical during the pandemic as recipients are more isolated and physically vulnerable due to being immunocompromised from cancer and treatments.
The Foundation provided UMOM New Day Centers with $100,000 in grant funding to support its increased costs of deep cleaning, food, and extra staffing in response to COVID-19 as it continues to provide vitally important housing and services for families experiencing homelessness. As UMOM has been working to keep families safe, healthy, and off the streets, the chiller for its air-conditioning unit broke down. Legacy provided a $25,000 grant to help replace the chiller, which keeps 155 families at UMOM's main campus cool during this hottest time of the year.
Established in 1892, Valley of the Sun YMCA has been serving Arizona since before it became the 48th state. BHHS Legacy Foundation gave a grant of $75,000 to the YMCA to help cover the increased costs and demand for the essential services it provides, including childcare, low-income transitional housing, case management for young people in foster care, and outreach to senior citizens. The Foundation recognizes that the COVID-19 pandemic has affected community members of all ages—children, teenagers, adults, and seniors—and it has provided this funding to support the YMCA as it serves the whole community.
Since 2001, BHHS Legacy Foundation has invested more than $100 million to improve the health and quality of life for those in our community who are most in need. The Foundation supports projects, programs, and organizations in four key areas: increasing access to healthcare; improving community health; expanding Arizona's healthcare workforce; and strengthening the community.
To see a full listing of organizations and grant amounts, click here.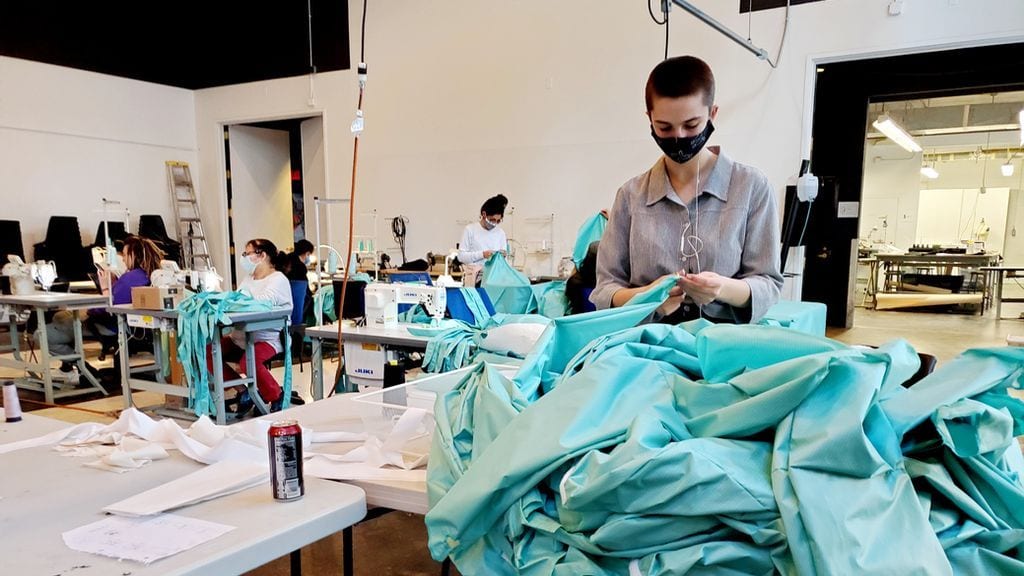 ---
Backpack Buddies Program Pivots
to Help Kids in Need
Each year, Legacy Connection's Backpack Buddies program equips thousands of elementary schoolchildren from low-income families in Greater Phoenix and the Tri-State region with clothing and supplies to get them ready for the new school year. As a result of the COVID-19 crisis, there is a greater need for such items. And though distribution is a bit different this year, kids are still receiving what they need.
Due to necessary restrictions and safety precautions, Backpack Buddies programs are not utilizing large group distribution events as they have in previous years. Instead, BHHS Legacy Foundation is supporting nonprofits thinking outside the box and developing alternative distribution methods to continue serving children in need while keeping them—and volunteers and staff members—healthy and safe.
The Back to School Clothing Drive (BTSCD) "New Clothes, New Beginnings" distribution did not take place in July as it has in past years. Instead, BTSCD is working with local school districts to deliver much-needed clothing, backpacks, and school supplies to students at their schools. Meanwhile, BTSCD recently assisted military families by providing items to 245 kids from Luke Air Force Base at a drive-up distribution at Gila River Arena.
The Tri-State Legacy Backpack Buddies "Dress Kids for Success" program is providing backpacks filled with school supplies, hygiene items, and uniform shirts to approximately 2,500 students in drive-thru events at schools. Its first-ever drive-thru event on Aug. 5 at Vista Colorado Elementary School in Needles, Calif. was a huge success, serving more than 250 kids. Future plans may include a post-pandemic event to distribute shoes, socks, and undergarments.
The Assistance League of Phoenix "Operation School Bell" program will rely heavily on its three Delivering Dreams Buses to provide uniforms, shoes and socks, hygiene kits, and books to students at Title I schools as the school year starts and throughout the year. Assistance League disinfects the dressing rooms and deep cleans all other areas of the buses daily to protect student and volunteer health. In addition, all items for students are distributed in their original sealed packages that students open once they get home.
Despite the challenges, BHHS Legacy Foundation remains committed to providing kids with a strong, confident start to the school year. Want to make a positive impact on a child's life and education? Join BHHS Legacy Foundation in supporting these programs today. Click here to donate.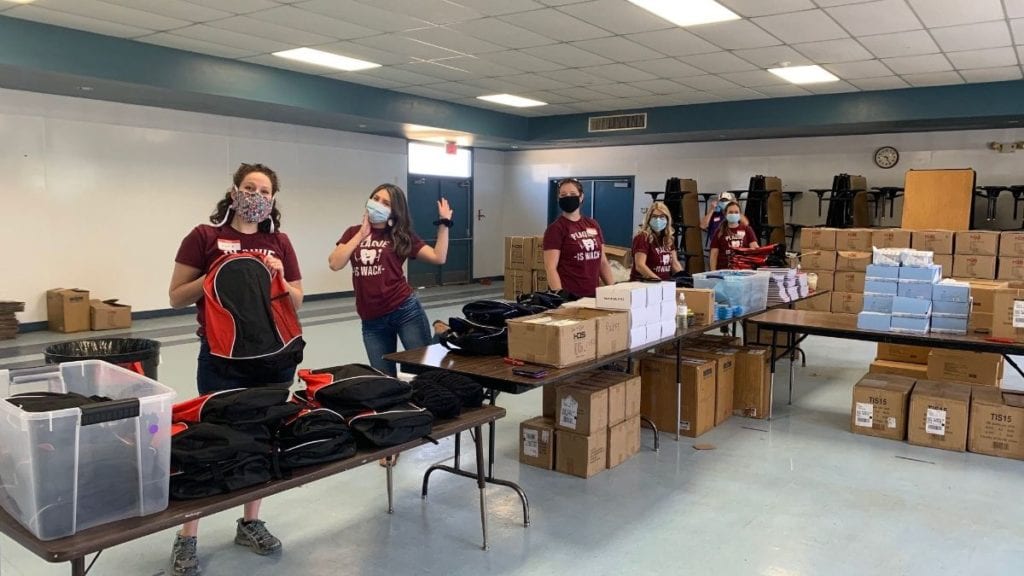 ---
Beehives Help a Garden Grow
In May, BHHS Legacy Foundation CEO Gerald Wissink was pleased to present St. Vincent de Paul with two beehives for their Urban Farm. David Smith, the farm's director, estimates the bees will improve the garden's output by 20 percent, due to the pollination impact of the bees. Produce grown in the farm helps to feed homeless families throughout Maricopa County. So more produce means more food for those experiencing homelessness.
The bee population selected for the new hives is from a safe and healthy bee farm in Arizona. Two queen bees were shipped in from Hawaii—one for each hive—to produce two productive hives.
Local artist Russ Cannizzaro painted beekeepers on the hives in honor of Danielle Cote, a 21-year-old beekeeping enthusiast who was killed by a drunk driver, and Richard Wissink, an Iowa farmer and beekeeper, and Gerald Wissink's grandfather.
"This has been a labor of love which will have a lasting impact at St. Vincent de Paul," Wissink said. "Dave Smith has long wanted bees because their pollination will provide more food to feed the homeless. It's a pretty sweet deal."
BHHS Legacy Foundation received significant support and direction from the Arizona Backyard Beekeepers, which is headed by Cricket Aldridge (shown below). Aldridge is an experienced and dedicated Arizona beekeeper, and we are grateful for her support.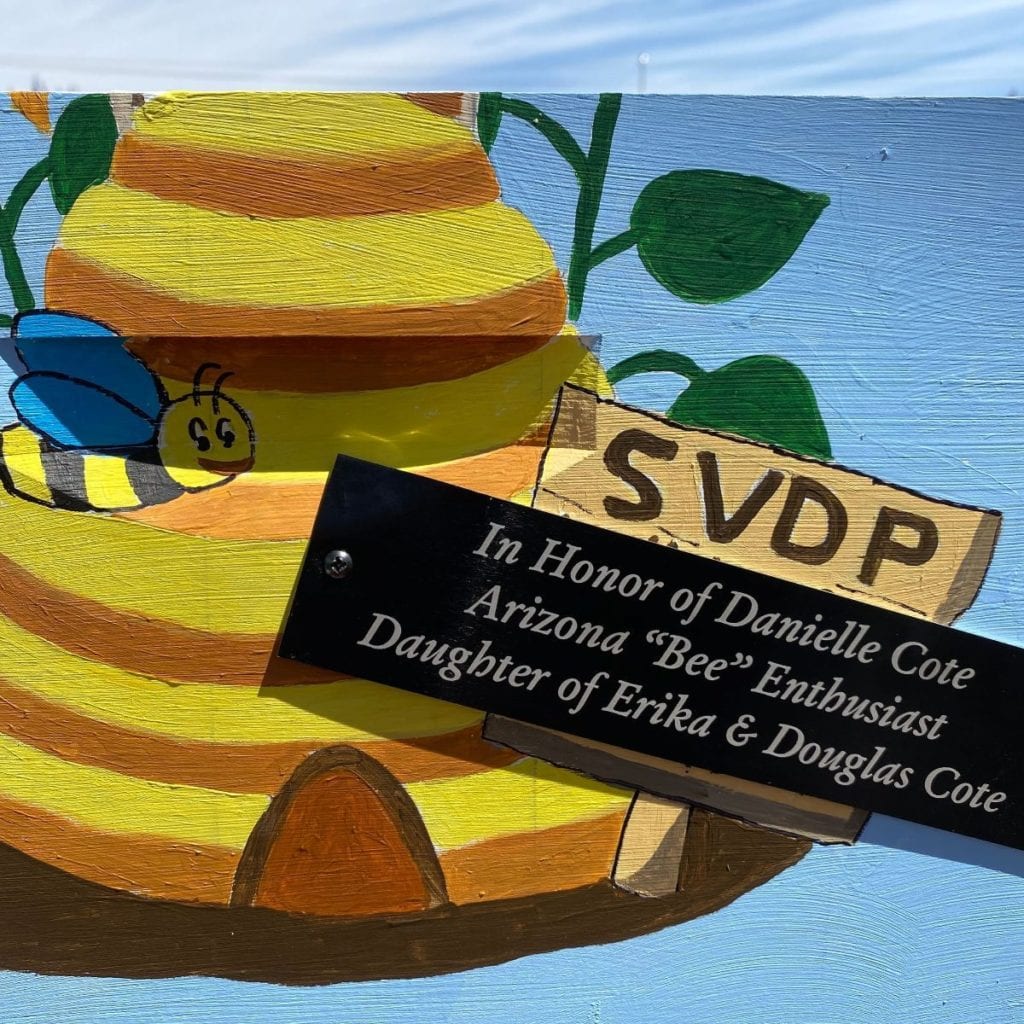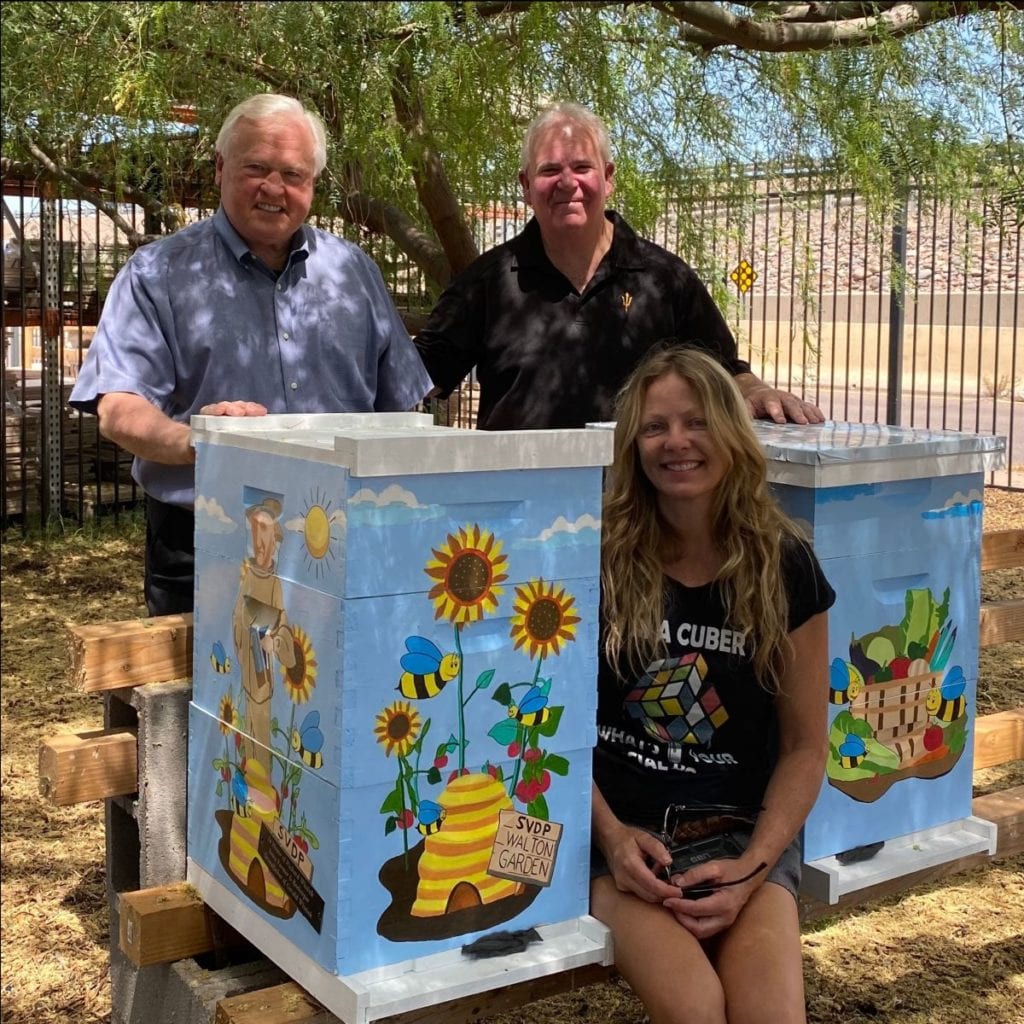 ---