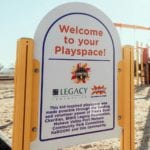 Since 2001, BHHS Legacy Foundation and its affiliates have invested more than $100 million of grant funding to enhance the quality of life and health of those we serve in the Greater Phoenix and Tri-State regions. This past year, the Foundation staff and board decided to broaden our commitment to healthy communities with a special emphasis on our communities' most valuable assets: the healthy development of youth, plus strong and vital sustainable Arizona nonprofits.
A $150,000 Foundation capital grant to New Pathways for Youth was funded to support the relocation and development of its new headquarters to enable the doubling of its capacity to serve more local youth. By expanding to include additional high-risk neighborhoods, NPFY plans to serve an additional 600 local youth by 2022, increasing the number of teens served from 400 to 1,000. NPFY will change lives and interrupt cycles of poverty, maximizing the long-term impact in the community by targeting areas where high youth adversity is prevalent. NPFY's new headquarters at 9th and Jefferson Streets will celebrate its grand opening in March 2020.
BHHS Legacy Foundation continues its support and commitment to address the opioid epidemic by funding Parents of Addicted Loved Ones. This year, $100,000 of grant funding will support the PAL's organization infrastructure needed to meet the demand for PAL's curriculum both nationally and locally for families with loved ones that struggle with addiction. Using an evidence-based model of parents helping parents, the PAL community-based program provides appropriate addiction education and tools for developing healthy and effective family communication.
Through continued funding from BHHS Legacy Foundation, the number of PAL's meetings has grown by nearly 60 percent, bringing the total to 122 family meeting sites run by 222 trained facilitators, operating in 30 states in the U.S. (over 30 family meeting sites in Arizona).
Foundation community grant funding totaling $5,098,372 in 2019 supported programs and projects that improve access to healthcare ($937,276); improve community health through prevention and education ($785,732); expand Arizona's healthcare workforce ($479,100); and strengthen and support health-related community efforts ($3,406,264).
Click here to see a comprehensive list of the Foundation and its affiliates grant giving in 2019, plus since inception.
Community Builds New Playground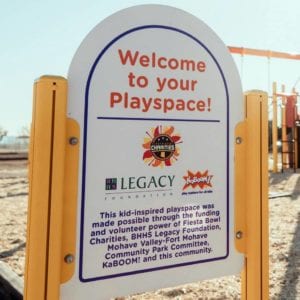 In November, more than 250 volunteers came together to assemble a KaBOOM! children's playground at the BHHS Legacy Foundation Mohave Valley-Fort Mohave Community Park. The children's playground is a collaborative community effort with KaBOOM!, Fiesta Bowl Charities, BHHS Legacy Foundation, and the local Community Park Committee and local families. The Foundation provided a $75,000 matching grant to Fiesta Bowl Charities in collaboration with KaBOOM!, a national nonprofit dedicated to providing safe places for children to play.
The BHHS Legacy Foundation Mohave Valley-Fort Mohave Community Park originated as a result of an initial donation of 30 acres of farmland donated by local resident Chip Sherrill, which initiated a total commitment in excess of $1 million of grant funding from BHHS Legacy Foundation in conjunction with the equivalent in-kind match by generous local residents and local community developer Mehdi Azarmi, plus other local companies through in-kind park development services and products. This successful community collaboration created the only outdoor park within 30 miles of the residential community.
The Foundation also provided an additional $30,000 of grant funding for an ADA-compliant children's playground adjacent to the KaBOOM! playground to better serve all residents in the Mohave Valley/Fort Mohave region.
Outdoor play is strongly associated with healthy lifestyle development and enhances critical thinking and creativity for children and adults. The design of the 2,500-square-foot park was inspired by input from local area residents, including the kids who will actively be utilizing the space.
This important collaboration between BHHS Legacy Foundation, Fiesta Bowl Charities, Mohave Valley/Fort Mohave Park Committee, KaBOOM!, and local community members will support healthy outcomes through the promotion of play for years to come.
Investing in Healthy Nonprofits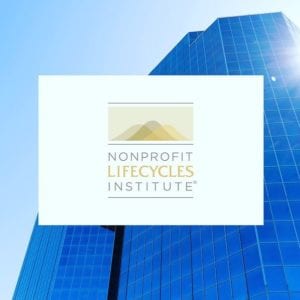 Over the last two years, BHHS Legacy Foundation awarded nearly $70,000 in grant funding to help the Alliance of Arizona Nonprofits provide Nonprofit Lifecycles Assessment Workshops to more than 50 Arizona nonprofits. These workshops use the seven lifecycles stages curriculum, based on Dr. Susan Kenny Stevens' award‐winning book "Nonprofit Lifecycles," to describe the predictable learning curves that nonprofits experience at each stage of organizational development. Designed to coach nonprofit professionals and their boards about the importance of planning and strategic direction, the workshops present a practical way to think about nonprofit capacity and develop strategies for continued growth and sustainability. To build upon this vital work, BHHS Legacy Foundation also awarded an expansion grant of $60,000 for the employment of a new Director of Capacity Building at the Alliance of Arizona Nonprofits; plus, the Foundation has plans to continue to increase the number of nonprofit workshops in the future.
Make an Impact—and Receive a Dollar-for-Dollar Arizona Tax Credit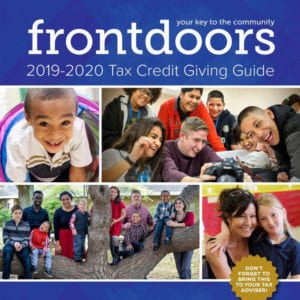 Did you know you can help create a brighter future for children, families, and older adults in our community without it costing you a dime?
Thanks to the Arizona Charitable Tax Credit, a donation to Legacy Connection (an affiliate of the Foundation, and a qualifying Tax Credit organization) will be credited to you, dollar for dollar, on your Arizona tax forms—up to $400 for those filing individually or up to $800 for those filing jointly.
Plus, BHHS Legacy Foundation and Legacy Connection have teamed up to double your donation. That means your Legacy Connection donation—plus BHHS Legacy Foundation's matching funds—will go twice as far to help Arizona families in need. In 2019, Legacy Connection utilized 100 percent of the community donations and the matching Legacy Foundation funding to serve more than 20,000 Title I eligible local schoolchildren through its "Legacy Backpack Buddies" back-to-school project providing backpacks, school supplies, clothing, shoes, and more.
Your personal support will help impact each child's confidence and readiness to learn and succeed in school, which is key to breaking the cycle of poverty. Be a force for good in the community and reduce your direct Arizona income tax liability at the same time. For more information, click here, plus take a look at the Frontdoors Tax Credit Giving Guide to learn how the Arizona tax credit works and impacts our community.
Please join us and donate today.